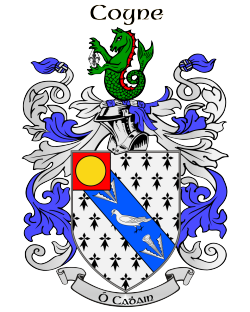 Get this crest printed on...
COYNE Family History
Recorded in the spellings of Coen, Coyne, Kilcoyne, and Kyne, this name is usually Irish, but as Coen and Cohen when encountered outside of Ireland, may be Hebrew. When from Ireland it derives from two Gaelic surnames being O' Cadhain originally found in the province of Connacht, and specifically County Mayo, and O' Comhdhain in the province of Ulster. The prefix O' indicates male descendant of, plus in this case either of the personal bynames Cadhan meaning "wild goose" suggesting perhaps that members of the clan were at times either forced to flee abroad, or Comhdan, which has the unusual translation of "a shared gift"...