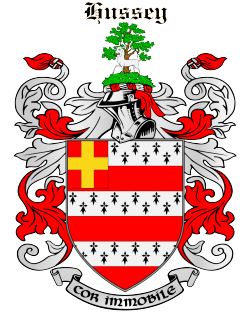 Get this crest printed on...
HUSSEY Family History
This interesting surname, chiefly found in Scotland, has a number of possible sources. Firstly, it may be of Norman origin, and locational from Houssaye, a place in Seine-Maritime, so called from the Old French "hous", holly. Locational names were originally given to the Lord of the Manor, or as a means of identification to those who had left their place of origin to settle elsewhere. Regional and dialectal differences subsequently roduced several variations of the original spelling of the name. Hosie may also belong to that sizeable group of early European surnames that were gradually created from the habitual use of nicknames...