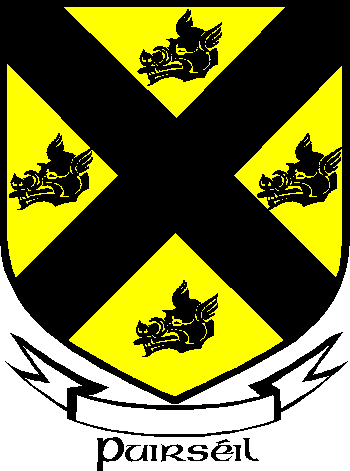 Get this crest printed on...
PURCELL Family History
This interesting surname is widespread in both Ireland and England and is of Norman descent, a metonymic occupational name for a swineherd, deriving from the Old French "pourcel" meaning piglet. The Irish Purcells are found mainly in Counties Kilkenny and Tipperary. The picturesque ruined castle of Loughmoe, the seat of the head of the family, is a well known landmark near Thurles in Co. Tipperary. Though Norman, the Purcells did not come to Ireland until some years after the Anglo-Norman invasion of 1172, when they became adherents of the great Butler (Ormond) family. Early recordings of the surname in England include Ralph Purcel (1159) in the Pipe Rolls of Staffordshire, and William Purcell (1230) in the Pipe Rolls of Leicestershire...