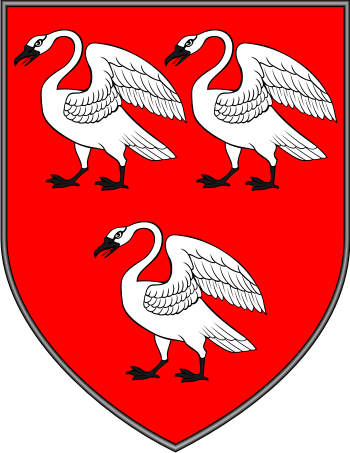 Get this crest printed on...
SINNOTT Family History
This most interesting name with variant spellings Sinnott, Sinnat, Senett, Sinnett, and Synnot, although found in England, and of English origin, is far more widespread in Ireland, where it has been Gaelicized as "Sionoid". The name itself derives from the Olde English personal name "Sigenoth" and the medieval personal name "Sinod", which means "victory-brave" from the elements "sige", victory and "noth", brave. The personal name appears as "Synodus" circa 1095 in Feudal Documents from the Abbey of Bury St. Edmunds (Suffolk). The name has been prominent in Co. Wexford since the 13th Century (see below). They have often been referred to as the most numerous of Anglo-Norman families in Wexford after the Invasion of 1170 and until the advent of Cromwell possessed extensive estates and held important public offices due to their constant loyalty to the Crown...