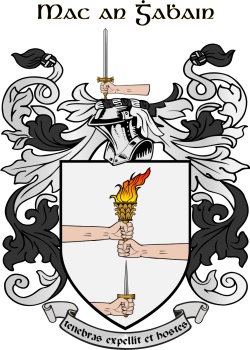 Get this crest printed on...
SMITH Family History
Mac Gabhann - anglicised as Smith, Smyth, Smythe; according to Woulfe in 'Sloinnte Gaedheal is Gall' 1923, the name is a variant of the very numerous Irish surname Mac an Gabhann, which means 'son of the smith'. The root word is 'gobha' (pron. gowa) which means 'smith'. MacGowan and Magowan are common enough in the north, but in the south the name is generally found in its English form.
MacLysaght deals with Smith in some length in 'Irish Families' 1980, where he says MacGowan is generally found in its Smith form, especially in Co Cavan, where the sept originated. It was one of the principal septs of Breffny.
Ó Gobhan - anglicised as Smith and Smythe, originally of east Ulster, although Woulfe says that they too were originally of Co Cavan, and mentions Meath and Westmeath also in connection with this name. Ballygowan in County Down would refer to an early settlement of this sept.
The Mac Gabhann sept were influential in their day, being hereditary historians to the O' Kennedys of Ormond.
The Ó Gobhan sept were once numerous and widespread across the north and east of Ireland.
In the '1659 Census' undertaken by Sir William Petty for the Cromwellian authorities, Smith etc occurs as a Principal Irish Name in the following counties: in Monaghan both McGowan and O' Gowan with 10 and 15 families respectively; in Fermanagh, Enniskeane Barony, O' Gowan is listed with 7 families; in Down, Kinarlertye and Duffrayne Barony, Smith appears as Principal Irish Name with 14 families; likewise in Castlereagh Barony nearby, Smith appears as a P.I.N. with 11 families; in Farrard Barony, Co Louth, Smyth occurs with 8 families; and with 11 families, Smyth again, occurs in Atherdee in the same county.
From the above one can see how the forms Smith, Smyth et al fit in with the original homelands of the MacGowans and O' Gowans. Crucially Co Cavan does not feature in Petty's incomplete 'Census'.
By the mid 19th century survey of property in Griffith's 'Primary Valuation' of 1848-1860, Smith appears with 5982 entries and Smyth with 1586 entries. The highest counties for the former were: Cavan (1074) Down (635) Meath (578); and the latter: Cavan (240) Derry (107) and Antrim (103).
All this fits in nicely with the history of the Mac Gowans and O' Gowans. If you are a Smith or Smyth(e) from any of the above counties you could work out to which sept you belonged. Clearly some Smiths in Northern Ireland could be of immigrant Scottish or English origin, it being the most numerous surname in both countries in recent surveys.
Two famous Irish Smiths:
Charles Smith (1715-1756) born in Waterford was Ireland's early topographer and county historian. His excellent county histories are a great source of information on 18th century Ireland.
Jeremiah Smith born in Ireland in 1705, founded the first paper factory in the U.S. in Massachusetts.